Product Description
As a professional manufacturer for propeller shaft, we have +8AA 938-139 530 0571 1AB
Application
for JEEP Grand Cherokee 02-03
Material
SS430/45# steel 
Balancing Standrad
G16, 3200rpm
Warranty
One Year
For some items, we have stock, small order (+3000USD) is welcome.
The following items are some of propeller shafts, If you need more information, pls contact us for ASAP.
 
for JEEP PROPELLER SHAFT

OEM

Application

OEM

Application
65-9312
for JEEP Cherokee 01
52853651AF
for JEEP Grand Cherokee 11-12
52123612AD
for JEEP Cherokee 14-18
5257197AC
for JEEP Grand Cherokee 4.0L 99-01
65-9820
for JEEP Cherokee 84-86
5257198AD
for JEEP Grand Cherokee 4.7L 99-02
530 0571 2AC
for JEEP Cherokee 87-01
65-9773
for JEEP Grand cherokee 93-95
65-9738
for JEEP Cherokee 88
65-9771
for JEEP Grand cherokee 95
530 0571 3AC
for JEEP Cherokee 89-00
65-9769
for JEEP Grand Cherokee 96
65-9669
for JEEP Cherokee 90-94
65-9762
for JEEP Grand cherokee 96-97
65-9764
for JEEP Cherokee 90-98
65-9761
for JEEP Grand cherokee 96-97
65-9776
for JEEP Cherokee 95-98
65-9779
for JEEP Grand cherokee 96-98
5215716AC
for JEEP Commander 06-09
5215713AA
for JEEP Grand Cherokee 99-03
52853006AB
for JEEP Commander 06-10
52111597AA
for JEEP Liberty 02-04
52853431AA
for JEEP Commander 07-10
52111596AA
for JEEP Liberty 02-07
21-001D
for JEEP Commander 07-10
946-386
for JEEP Liberty 04-07
21-001D
for JEEP Commander 07-10
52853442AE
for JEEP Liberty 08-12
65-3002
for JEEP Compass 08-16
65-9751
for JEEP Wagoneer 71-79
65-9781
for JEEP Grand cherokee 02-03
52853321AC
for JEEP CZPT 07-11
52105884AA
for JEEP Grand cherokee 02-04
52853329AC
for JEEP CZPT 07-11
5215718AE
for JEEP Grand Cherokee 05-06
52853330AC
for JEEP CZPT 07-11
5215710AF
for JEEP Grand cherokee 05-07
52853319AC
for JEEP CZPT 07-18
5215718AE
for JEEP Grand Cherokee 05-10
52123557AA
for JEEP CZPT 12-14
52853432AA
for JEEP Grand Cherokee 07-10
52123551AA
for JEEP CZPT 12-17
52123514AD
for JEEP Grand Cherokee 11
52123555AA
for JEEP CZPT 12-18
52123627A
for JEEP Grand Cherokee 11
CVJ014BK
for JEEP CZPT 12-18
936-085
for JEEP CZPT 97-06
530571
for JEEP CZPT 87-93
65-9315
for JEEP CZPT 98-02
52098220
for JEEP CZPT 94-95
65-9316
for JEEP CZPT 98-02
65-9765
for JEEP CZPT 97
| | |
| --- | --- |
| After-sales Service: | 1 Year |
| Condition: | New |
| Color: | Black |
| Certification: | ISO, IATF |
| Type: | Propeller Shaft/Drive Shaft |
| Application Brand: | Jeep |
Samples:

US$ 300/Piece

1 Piece(Min.Order)

|
Request Sample
Customization:

Available

|

Customized Request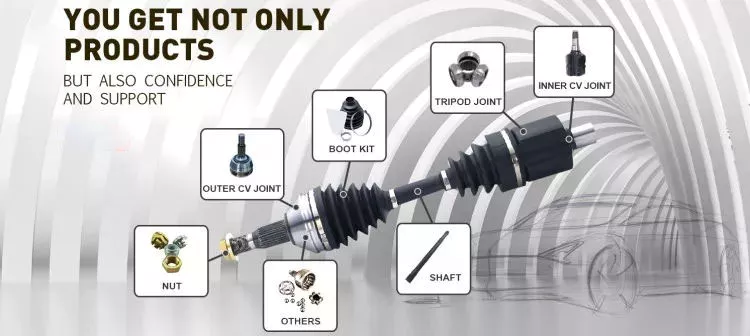 Different parts of the drive shaft
The driveshaft is the flexible rod that transmits torque between the transmission and the differential. The term drive shaft may also refer to a cardan shaft, a transmission shaft or a propeller shaft. Parts of the drive shaft are varied and include:
The driveshaft is a flexible rod that transmits torque from the transmission to the differential
When the driveshaft in your car starts to fail, you should seek professional help as soon as possible to fix the problem. A damaged driveshaft can often be heard. This noise sounds like "tak tak" and is usually more pronounced during sharp turns. However, if you can't hear the noise while driving, you can check the condition of the car yourself.
The drive shaft is an important part of the automobile transmission system. It transfers torque from the transmission to the differential, which then transfers it to the wheels. The system is complex, but still critical to the proper functioning of the car. It is the flexible rod that connects all other parts of the drivetrain. The driveshaft is the most important part of the drivetrain, and understanding its function will make it easier for you to properly maintain your car.
Driveshafts are used in different vehicles, including front-wheel drive, four-wheel drive, and front-engine rear-wheel drive. Drive shafts are also used in motorcycles, locomotives and ships. Common front-engine, rear-wheel drive vehicle configurations are shown below. The type of tube used depends on the size, speed and strength of the drive shaft.
The output shaft is also supported by the output link, which has two identical supports. The upper part of the drive module supports a large tapered roller bearing, while the opposite flange end is supported by a parallel roller bearing. This ensures that the torque transfer between the differentials is efficient. If you want to learn more about car differentials, read this article.
It is also known as cardan shaft, propeller shaft or drive shaft
A propshaft or propshaft is a mechanical component that transmits rotation or torque from an engine or transmission to the front or rear wheels of a vehicle. Because the axes are not directly connected to each other, it must allow relative motion. Because of its role in propelling the vehicle, it is important to understand the components of the driveshaft. Here are some common types.
Isokinetic Joint: This type of joint guarantees that the output speed is the same as the input speed. To achieve this, it must be mounted back-to-back on a plane that bisects the drive angle. Then mount the two gimbal joints back-to-back and adjust their relative positions so that the velocity changes at one joint are offset by the other joint.
Driveshaft: The driveshaft is the transverse shaft that transmits power to the front wheels. Driveshaft: The driveshaft connects the rear differential to the transmission. The shaft is part of a drive shaft assembly that includes a drive shaft, a slip joint, and a universal joint. This shaft provides rotational torque to the drive shaft.
Dual Cardan Joints: This type of driveshaft uses two cardan joints mounted back-to-back. The center yoke replaces the intermediate shaft. For the duplex universal joint to work properly, the angle between the input shaft and the output shaft must be equal. Once aligned, the two axes will operate as CV joints. An improved version of the dual gimbal is the Thompson coupling, which offers slightly more efficiency at the cost of added complexity.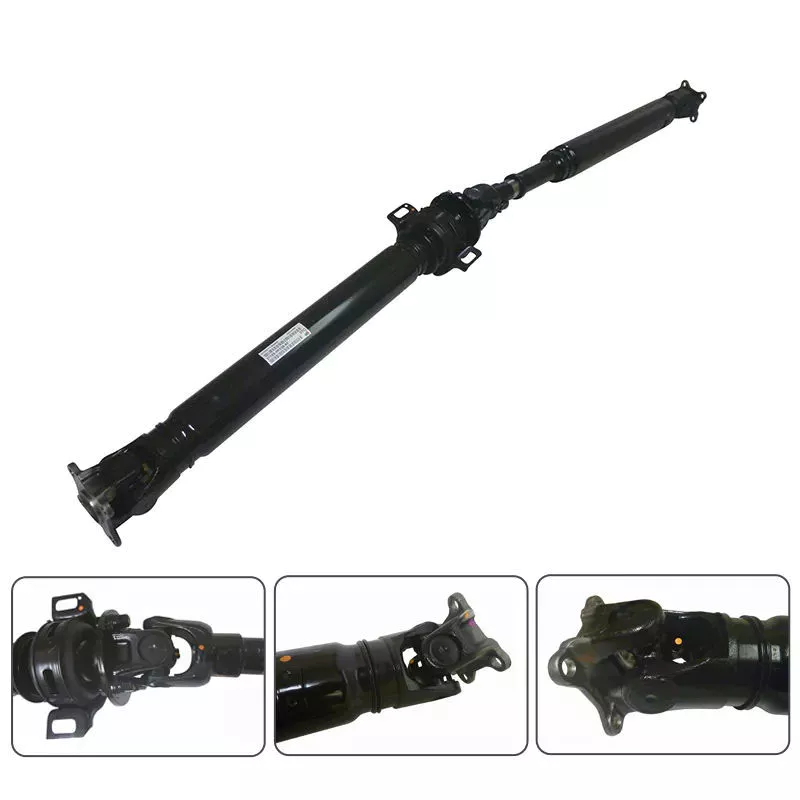 It transmits torque at different angles between driveline components
A vehicle's driveline consists of various components that transmit power from the engine to the wheels. This includes axles, propshafts, CV joints and differentials. Together, these components transmit torque at different angles between driveline components. A car's powertrain can only function properly if all its components work in harmony. Without these components, power from the engine would stop at the transmission, which is not the case with a car.
The CV driveshaft design provides smoother operation at higher operating angles and extends differential and transfer case life. The assembly's central pivot point intersects the joint angle and transmits smooth rotational power and surface speed through the drivetrain. In some cases, the C.V. "U" connector. Drive shafts are not the best choice because the joint angles of the "U" joints are often substantially unequal and can cause torsional vibration.
Driveshafts also have different names, including driveshafts. A car's driveshaft transfers torque from the transmission to the differential, which is then distributed to other driveline components. A power take-off (PTO) shaft is similar to a prop shaft. They transmit mechanical power to connected components. They are critical to the performance of any car. If any of these components are damaged, the entire drivetrain will not function properly.
A car's powertrain can be complex and difficult to maintain. Adding vibration to the drivetrain can cause premature wear and shorten overall life. This driveshaft tip focuses on driveshaft assembly, operation, and maintenance, and how to troubleshoot any problems that may arise. Adding proper solutions to pain points can extend the life of the driveshaft. If you're in the market for a new or used car, be sure to read this article.
it consists of several parts
"It consists of several parts" is one of seven small prints. This word consists of 10 letters and is one of the hardest words to say. However, it can be explained simply by comparing it to a cow's kidney. The cocoa bean has several parts, and the inside of the cocoa bean before bursting has distinct lines. This article will discuss the different parts of the cocoa bean and provide a fun way to learn more about the word.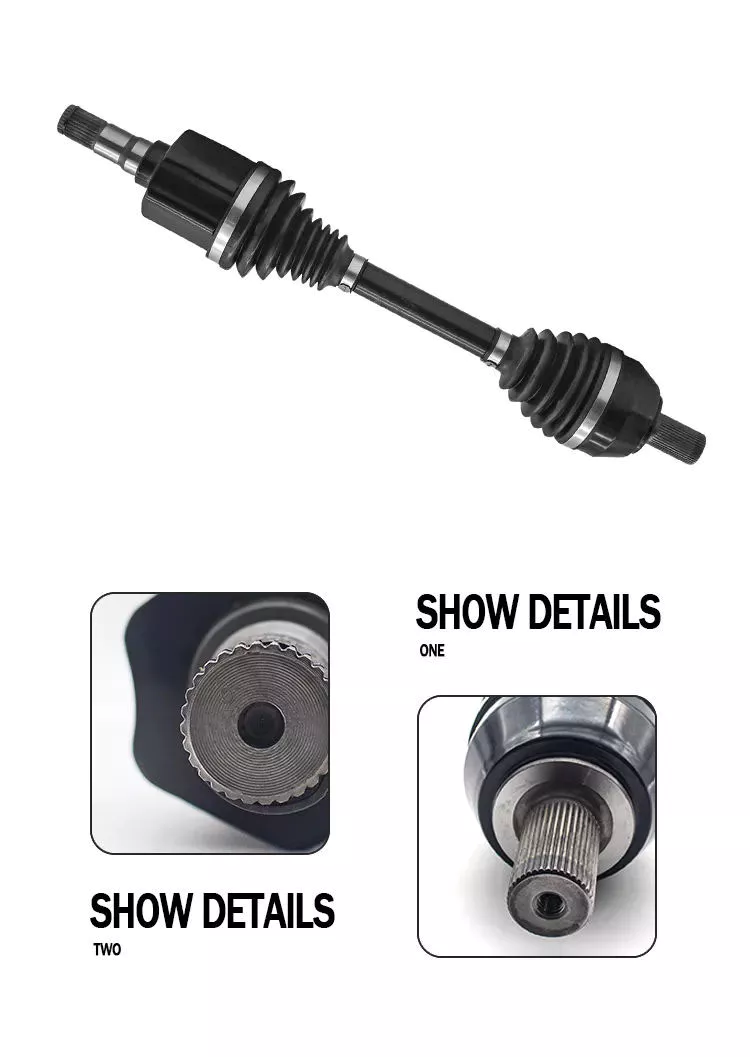 Replacement is expensive
Replacing a car's driveshaft can be an expensive affair, and it's not the only part that needs servicing. A damaged drive shaft can also cause other problems. This is why getting estimates from different repair shops is essential. Often, a simple repair is cheaper than replacing the entire unit. Listed below are some tips for saving money when replacing a driveshaft. Listed below are some of the costs associated with repairs:
First, learn how to determine if your vehicle needs a driveshaft replacement. Damaged driveshaft components can cause intermittent or lack of power. Additionally, improperly installed or assembled driveshaft components can cause problems with the daily operation of the car. Whenever you suspect that your car needs a driveshaft repair, seek professional advice. A professional mechanic will have the knowledge and experience needed to properly solve the problem.
Second, know which parts need servicing. Check the u-joint bushing. They should be free of crumbs and not cracked. Also, check the center support bearing. If this part is damaged, the entire drive shaft needs to be replaced. Finally, know which parts to replace. The maintenance cost of the drive shaft is significantly lower than the maintenance cost. Finally, determine if the repaired driveshaft is suitable for your vehicle.
If you suspect your driveshaft needs service, make an appointment with a repair shop as soon as possible. If you are experiencing vibration and rough riding, driveshaft repairs may be the best way to prevent costly repairs in the future. Also, if your car is experiencing unusual noise and vibration, a driveshaft repair may be a quick and easy solution. If you don't know how to diagnose a problem with your car, you can take it to a mechanic for an appointment and a quote.



editor by CX 2023-05-25
Model: CHEROKEE (XJ)
Yr: 1983-2A580 6PK Air Conditioning Compressor AC Compressor with Clutch Assy For CZPT 1.3 1.5 SCSA06C Spare Parts 89530 0571 two
Auto Fitment: JEEP
Reference NO.: 28206
Measurement: 779mm
Materials: Metal
Model Quantity: 530 0571 2AC
Guarantee: 12 Months
Automobile Make: for Jeep Cherokee
Product Identify: Propeller Shaft Travel Shaft for Jeep Cherokee
OEM NO.: 530 0571 2AC
Weight: OEM Normal
Lenth: 779mm
Car Product: for Jeep Cherokee
MOQ: 1pc if we have it in stock
Bundle: Neutral Packing
Sample: available if we have them in stock
Certification: ISO/TS16949
Application: Vehicle Transmission Method
Packaging Information: poly bag+thick inner box+pallet/ wooden cartons.
Port: ZheJiang /HangZhou
About Solution
| | | | | |
| --- | --- | --- | --- | --- |
| Product Identify | 530 0571 2AC Vehicle Transmission Parts Entrance Propeller Push Shaft for Jeep Cherokee 4.0L 1987 – 2001 | | | |
| OEM NO. | 530 0571 2AC | | | |
| Car Model | for Jeep Cherokee 4.0L 1987 – 2001 | | | |
| Position | Front Axle | | | |
| Lenght [mm] | 779mm | | | |
| Diameter [mm] | 51mm | | | |
| MOQ | 1PC if we have stock, Tree chopping equipment Chain chainsaw components 070 105cc sprocket go over 50PCS for generation. | | | |
| Our Advantage | one. The same duration as first one particular. 2. Reduce MOQ is suitable with more models. 3. Quick delivery. 4. Laser Mark for free of charge. 5.Pallet with Film for cost-free. | | | |
Why Select Us Merchandise packaging Certifications FAQ
How to Replace the Drive Shaft
Several different functions in a vehicle are critical to its functioning, but the driveshaft is probably the part that needs to be understood the most. A damaged or damaged driveshaft can damage many other auto parts. This article will explain how this component works and some of the signs that it may need repair. This article is for the average person who wants to fix their car on their own but may not be familiar with mechanical repairs or even driveshaft mechanics. You can click the link below for more information.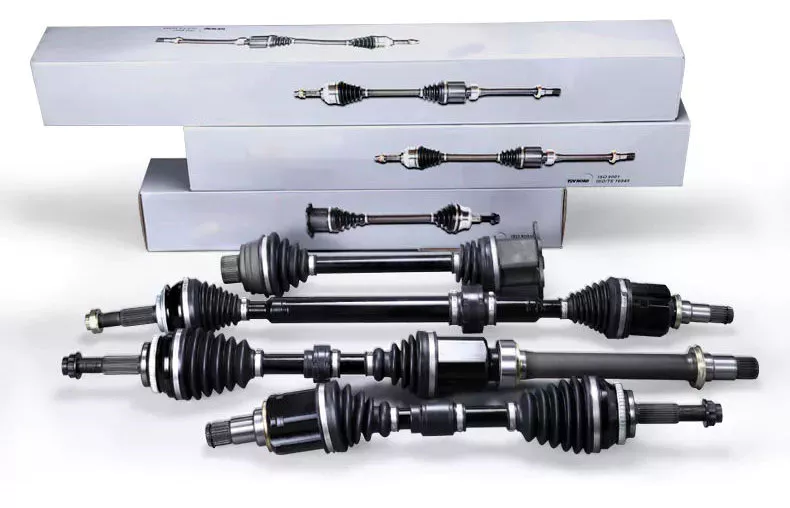 Repair damaged driveshafts
If you own a car, you should know that the driveshaft is an integral part of the vehicle's driveline. They ensure efficient transmission of power from the engine to the wheels and drive. However, if your driveshaft is damaged or cracked, your vehicle will not function properly. To keep your car safe and running at peak efficiency, you should have it repaired as soon as possible. Here are some simple steps to replace the drive shaft.
First, diagnose the cause of the drive shaft damage. If your car is making unusual noises, the driveshaft may be damaged. This is because worn bushings and bearings support the drive shaft. Therefore, the rotation of the drive shaft is affected. The noise will be squeaks, dings or rattles. Once the problem has been diagnosed, it is time to repair the damaged drive shaft.
Professionals can repair your driveshaft at relatively low cost. Costs vary depending on the type of drive shaft and its condition. Axle repairs can range from $300 to $1,000. Labor is usually only around $200. A simple repair can cost between $150 and $1700. You'll save hundreds of dollars if you're able to fix the problem yourself. You may need to spend a few more hours educating yourself about the problem before handing it over to a professional for proper diagnosis and repair.
The cost of repairing a damaged driveshaft varies by model and manufacturer. It can cost as much as $2,000 depending on parts and labor. While labor costs can vary, parts and labor are typically around $70. On average, a damaged driveshaft repair costs between $400 and $600. However, these parts can be more expensive than that. If you don't want to spend money on unnecessarily expensive repairs, you may need to pay a little more.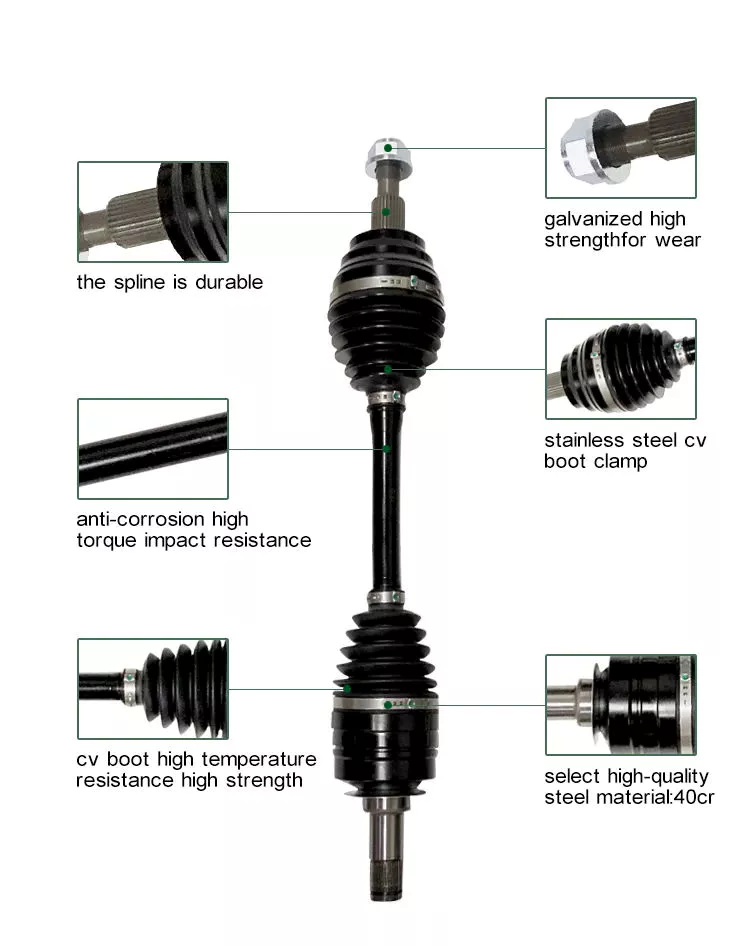 Learn how drive shafts work
While a car engine may be one of the most complex components in your vehicle, the driveshaft has an equally important job. The driveshaft transmits the power of the engine to the wheels, turning the wheels and making the vehicle move. Driveshaft torque refers to the force associated with rotational motion. Drive shafts must be able to withstand extreme conditions or they may break. Driveshafts are not designed to bend, so understanding how they work is critical to the proper functioning of the vehicle.
The drive shaft includes many components. The CV connector is one of them. This is the last stop before the wheels spin. CV joints are also known as "doughnut" joints. The CV joint helps balance the load on the driveshaft, the final stop between the engine and the final drive assembly. Finally, the axle is a single rotating shaft that transmits power from the final drive assembly to the wheels.
Different types of drive shafts have different numbers of joints. They transmit torque from the engine to the wheels and must accommodate differences in length and angle. The drive shaft of a front-wheel drive vehicle usually includes a connecting shaft, an inner constant velocity joint and an outer fixed joint. They also have anti-lock system rings and torsional dampers to help them run smoothly. This guide will help you understand the basics of driveshafts and keep your car in good shape.
The CV joint is the heart of the driveshaft, it enables the wheels of the car to move at a constant speed. The connector also helps transmit power efficiently. You can learn more about CV joint driveshafts by looking at the top 3 driveshaft questions
The U-joint on the intermediate shaft may be worn or damaged. Small deviations in these joints can cause slight vibrations and wobble. Over time, these vibrations can wear out drivetrain components, including U-joints and differential seals. Additional wear on the center support bearing is also expected. If your driveshaft is leaking oil, the next step is to check your transmission.
The drive shaft is an important part of the car. They transmit power from the engine to the transmission. They also connect the axles and CV joints. When these components are in good condition, they transmit power to the wheels. If you find them loose or stuck, it can cause the vehicle to bounce. To ensure proper torque transfer, your car needs to stay on the road. While rough roads are normal, bumps and bumps are common.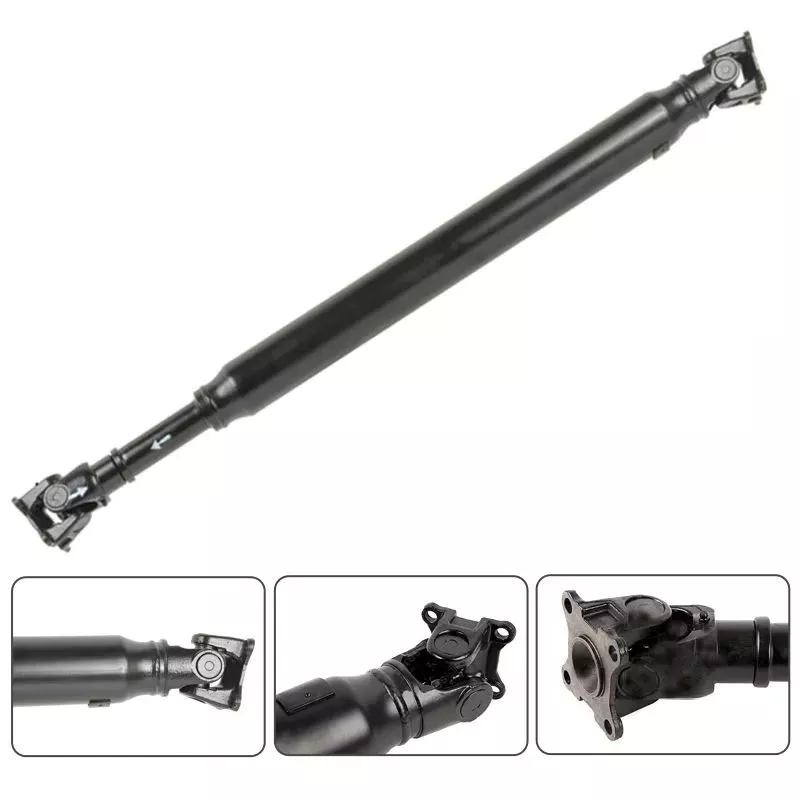 Common signs of damaged driveshafts
If your vehicle vibrates heavily underneath, you may be dealing with a faulty propshaft. This issue limits your overall control of the vehicle and cannot be ignored. If you hear this noise frequently, the problem may be the cause and should be diagnosed as soon as possible. Here are some common symptoms of a damaged driveshaft. If you experience this noise while driving, you should have your vehicle inspected by a mechanic.
A clanging sound can also be one of the signs of a damaged driveshaft. A ding may be a sign of a faulty U-joint or center bearing. This can also be a symptom of worn center bearings. To keep your vehicle safe and functioning properly, it is best to have your driveshaft inspected by a certified mechanic. This can prevent serious damage to your car.
A worn drive shaft can cause difficulty turning, which can be a major safety issue. Fortunately, there are many ways to tell if your driveshaft needs service. The first thing you can do is check the u-joint itself. If it moves too much or too little in any direction, it probably means your driveshaft is faulty. Also, rust on the bearing cap seals may indicate a faulty drive shaft.
The next time your car rattles, it might be time for a mechanic to check it out. Whether your vehicle has a manual or automatic transmission, the driveshaft plays an important role in your vehicle's performance. When one or both driveshafts fail, it can make the vehicle unsafe or impossible to drive. Therefore, you should have your car inspected by a mechanic as soon as possible to prevent further problems.
Your vehicle should also be regularly lubricated with grease and chain to prevent corrosion. This will prevent grease from escaping and causing dirt and grease to build up. Another common sign is a dirty driveshaft. Make sure your phone is free of debris and in good condition. Finally, make sure the driveshaft chain and cover are in place. In most cases, if you notice any of these common symptoms, your vehicle's driveshaft should be replaced.
Other signs of a damaged driveshaft include uneven wheel rotation, difficulty turning the car, and increased drag when trying to turn. A worn U-joint also inhibits the ability of the steering wheel to turn, making it more difficult to turn. Another sign of a faulty driveshaft is the shuddering noise the car makes when accelerating. Vehicles with damaged driveshafts should be inspected as soon as possible to avoid costly repairs.



editor by czh 2023-02-14
Item Description
PROPELLER SHAFT maker & supplier – CZPT is your best option
We have +7/8822 0571 8
45710-S10-A01
12344543
27111-SC571
936-571
45710-S9A-E01
936-911
27111-AJ13D
936-034
45710-S9A-J01
936-916
27101-84C00
for MITSUBISHI/NISSAN
for TOYOTA
CARDONE
OE
CARDONE
OE
65-3009
MR580626
sixty five-5007
37140-35180
sixty five-6000
3401A571
sixty five-9842
37140-35040
sixty five-9480
37000-JM14A
sixty five-5571
37100-3D250
sixty five-9478
37000-S3805
sixty five-5030
37100-34120
65-6004
37000-S4203
sixty five-9265
37110-3D070
65-6571
37041-90062
65-9376
37110-35880
936-262
37041-90014
sixty five-5571
37110-3D220
938-030
37300-F3600
65-5571
37100-34111
936-363
37000-7C002
65-5018
37110-3D060
938-two hundred
37000-7C001
65-5012
37100-5712
For KOREA Vehicle
for HYUNDAI/KIA
CARDONE
OE
CARDONE
OE
65-3502
49571-H1031
936-211
49100-3E450
65-3503
49300-2S000
936-210
49100-3E400
sixty five-3500
49300-0L000
936-200
49300-2P500
—-   F A Q   —-
Q1:  If we do not locate what we require on your internet site, what need to we do?
You can deliver us the OE variety or of the product you want, we will check if we have them.
We also produce new designs in accordance to customer's require
you can get in touch with us for far more detail.
Q2:  Can I get a cost price cut if I get large quantities?
Sure, it relies upon on your getting quantity, far more amount much more low cost.
Q3:  What about the supply time?
If we have stock, we can send out you the products within 3 functioning days,
if we never have inventory, typically it demands 10 to forty days.
 
This fall:  What is our MOQ?
Sample buy for top quality screening 1 piece , regular purchase 50 items for 1 purchase with mixed models .
Q5:  What is your payment conditions and condition ?
We can settle for T/T , LC, Trade Assurance, Western Union, Paypal, Moneygram ect.
| | |
| --- | --- |
| After-sales Service: | 1 Year |
| Condition: | New |
| Color: | Black |
| Certification: | ISO, Ts16949 |
| Type: | Drive Shaft |
| Application Brand: | Nissan, Toyota, Ford, BMW |
###
Samples:

US$ 300/Piece

1 Piece(Min.Order)
###
###
CARDONE

OE

CARDONE

OE

CARDONE

OE

CARDONE

OE

CARDONE

OE

CARDONE

OE

CARDONE

OE

CARDONE

OE

CARDONE

OE

CARDONE

OE

CARDONE

OE

CARDONE

OE

CARDONE

OE

CARDONE

OE

CARDONE

OE

CARDONE

OE
| | |
| --- | --- |
| After-sales Service: | 1 Year |
| Condition: | New |
| Color: | Black |
| Certification: | ISO, Ts16949 |
| Type: | Drive Shaft |
| Application Brand: | Nissan, Toyota, Ford, BMW |
###
Samples:

US$ 300/Piece

1 Piece(Min.Order)
###
###
CARDONE

OE

CARDONE

OE

CARDONE

OE

CARDONE

OE

CARDONE

OE

CARDONE

OE

CARDONE

OE

CARDONE

OE

CARDONE

OE

CARDONE

OE

CARDONE

OE

CARDONE

OE

CARDONE

OE

CARDONE

OE

CARDONE

OE

CARDONE

OE
Driveshaft structure and vibrations associated with it
The structure of the drive shaft is critical to its efficiency and reliability. Drive shafts typically contain claw couplings, rag joints and universal joints. Other drive shafts have prismatic or splined joints. Learn about the different types of drive shafts and how they work. If you want to know the vibrations associated with them, read on. But first, let's define what a driveshaft is.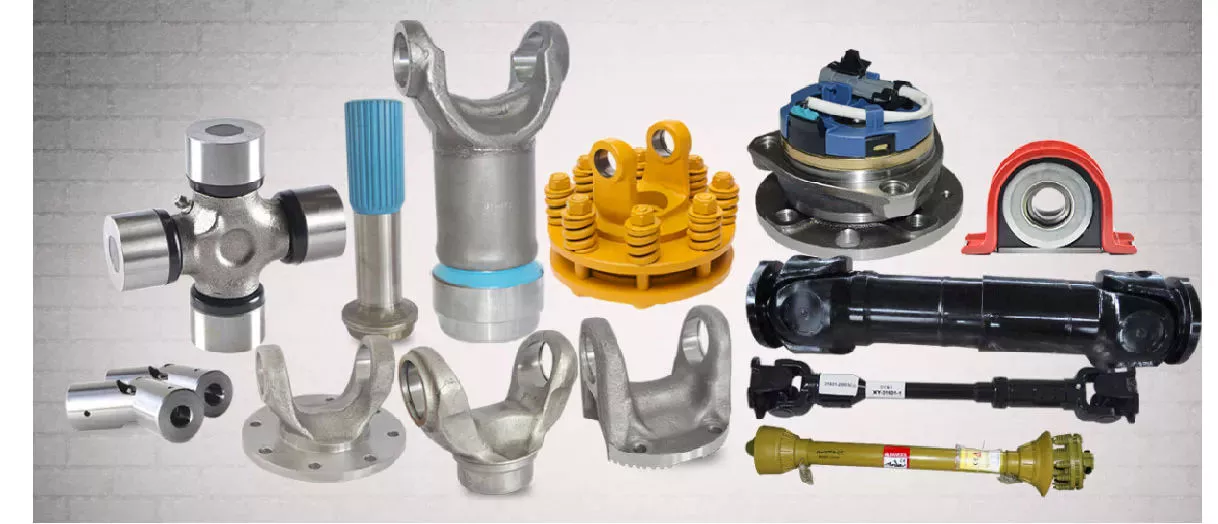 transmission shaft
As the demand on our vehicles continues to increase, so does the demand on our drive systems. Higher CO2 emission standards and stricter emission standards increase the stress on the drive system while improving comfort and shortening the turning radius. These and other negative effects can place significant stress and wear on components, which can lead to driveshaft failure and increase vehicle safety risks. Therefore, the drive shaft must be inspected and replaced regularly.
Depending on your model, you may only need to replace one driveshaft. However, the cost to replace both driveshafts ranges from $650 to $1850. Additionally, you may incur labor costs ranging from $140 to $250. The labor price will depend on your car model and its drivetrain type. In general, however, the cost of replacing a driveshaft ranges from $470 to $1850.
Regionally, the automotive driveshaft market can be divided into four major markets: North America, Europe, Asia Pacific, and Rest of the World. North America is expected to dominate the market, while Europe and Asia Pacific are expected to grow the fastest. Furthermore, the market is expected to grow at the highest rate in the future, driven by economic growth in the Asia Pacific region. Furthermore, most of the vehicles sold globally are produced in these regions.
The most important feature of the driveshaft is to transfer the power of the engine to useful work. Drive shafts are also known as propeller shafts and cardan shafts. In a vehicle, a propshaft transfers torque from the engine, transmission, and differential to the front or rear wheels, or both. Due to the complexity of driveshaft assemblies, they are critical to vehicle safety. In addition to transmitting torque from the engine, they must also compensate for deflection, angular changes and length changes.
type
Different types of drive shafts include helical shafts, gear shafts, worm shafts, planetary shafts and synchronous shafts. Radial protruding pins on the head provide a rotationally secure connection. At least one bearing has a groove extending along its circumferential length that allows the pin to pass through the bearing. There can also be two flanges on each end of the shaft. Depending on the application, the shaft can be installed in the most convenient location to function.
Propeller shafts are usually made of high-quality steel with high specific strength and modulus. However, they can also be made from advanced composite materials such as carbon fiber, Kevlar and fiberglass. Another type of propeller shaft is made of thermoplastic polyamide, which is stiff and has a high strength-to-weight ratio. Both drive shafts and screw shafts are used to drive cars, ships and motorcycles.
Sliding and tubular yokes are common components of drive shafts. By design, their angles must be equal or intersect to provide the correct angle of operation. Unless the working angles are equal, the shaft vibrates twice per revolution, causing torsional vibrations. The best way to avoid this is to make sure the two yokes are properly aligned. Crucially, these components have the same working angle to ensure smooth power flow.
The type of drive shaft varies according to the type of motor. Some are geared, while others are non-geared. In some cases, the drive shaft is fixed and the motor can rotate and steer. Alternatively, a flexible shaft can be used to control the speed and direction of the drive. In some applications where linear power transmission is not possible, flexible shafts are a useful option. For example, flexible shafts can be used in portable devices.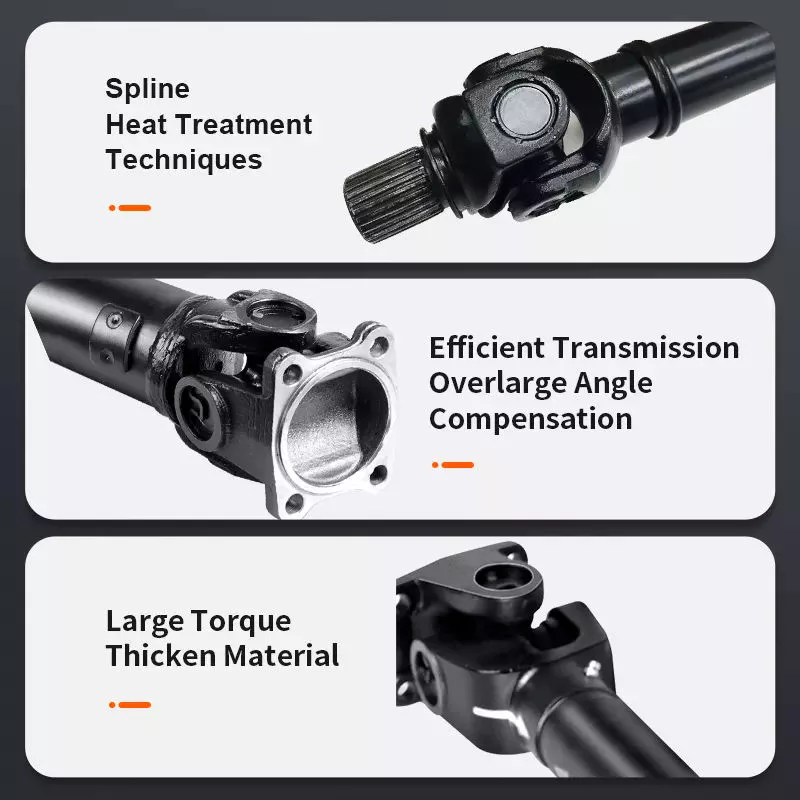 put up
The construction of the drive shaft has many advantages over bare metal. A shaft that is flexible in multiple directions is easier to maintain than a shaft that is rigid in other directions. The shaft body and coupling flange can be made of different materials, and the flange can be made of a different material than the main shaft body. For example, the coupling flange can be made of steel. The main shaft body is preferably flared on at least one end, and the at least one coupling flange includes a first generally frustoconical projection extending into the flared end of the main shaft body.
The normal stiffness of fiber-based shafts is achieved by the orientation of parallel fibers along the length of the shaft. However, the bending stiffness of this shaft is reduced due to the change in fiber orientation. Since the fibers continue to travel in the same direction from the first end to the second end, the reinforcement that increases the torsional stiffness of the shaft is not affected. In contrast, a fiber-based shaft is also flexible because it uses ribs that are approximately 90 degrees from the centerline of the shaft.
In addition to the helical ribs, the drive shaft 100 may also contain reinforcing elements. These reinforcing elements maintain the structural integrity of the shaft. These reinforcing elements are called helical ribs. They have ribs on both the outer and inner surfaces. This is to prevent shaft breakage. These elements can also be shaped to be flexible enough to accommodate some of the forces generated by the drive. Shafts can be designed using these methods and made into worm-like drive shafts.
vibration
The most common cause of drive shaft vibration is improper installation. There are five common types of driveshaft vibration, each related to installation parameters. To prevent this from happening, you should understand what causes these vibrations and how to fix them. The most common types of vibration are listed below. This article describes some common drive shaft vibration solutions. It may also be beneficial to consider the advice of a professional vibration technician for drive shaft vibration control.
If you're not sure if the problem is the driveshaft or the engine, try turning on the stereo. Thicker carpet kits can also mask vibrations. Nonetheless, you should contact an expert as soon as possible. If vibration persists after vibration-related repairs, the driveshaft needs to be replaced. If the driveshaft is still under warranty, you can repair it yourself.
CV joints are the most common cause of third-order driveshaft vibration. If they are binding or fail, they need to be replaced. Alternatively, your CV joints may just be misaligned. If it is loose, you can check the CV connector. Another common cause of drive shaft vibration is improper assembly. Improper alignment of the yokes on both ends of the shaft can cause them to vibrate.
Incorrect trim height can also cause driveshaft vibration. Correct trim height is necessary to prevent drive shaft wobble. Whether your vehicle is new or old, you can perform some basic fixes to minimize problems. One of these solutions involves balancing the drive shaft. First, use the hose clamps to attach the weights to it. Next, attach an ounce of weight to it and spin it. By doing this, you minimize the frequency of vibration.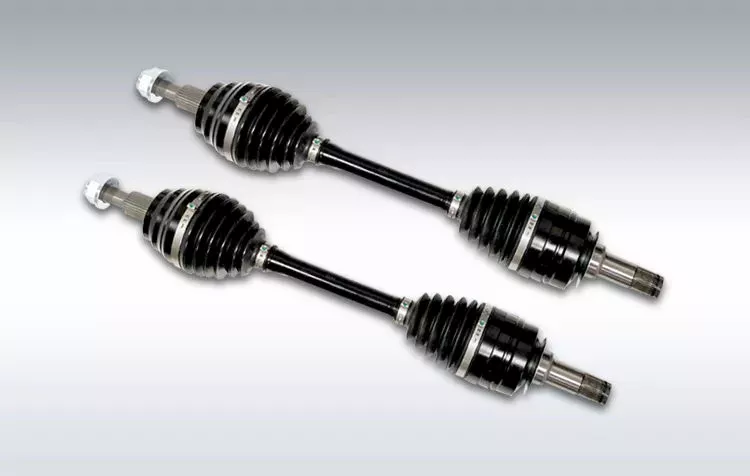 cost
The global driveshaft market is expected to exceed (xxx) million USD by 2028, growing at a compound annual growth rate (CAGR) of XX%. Its soaring growth can be attributed to several factors, including increasing urbanization and R&D investments by leading market players. The report also includes an in-depth analysis of key market trends and their impact on the industry. Additionally, the report provides a comprehensive regional analysis of the Driveshaft Market.
The cost of replacing the drive shaft depends on the type of repair required and the cause of the failure. Typical repair costs range from $300 to $750. Rear-wheel drive cars usually cost more. But front-wheel drive vehicles cost less than four-wheel drive vehicles. You may also choose to try repairing the driveshaft yourself. However, it is important to do your research and make sure you have the necessary tools and equipment to perform the job properly.
The report also covers the competitive landscape of the Drive Shafts market. It includes graphical representations, detailed statistics, management policies, and governance components. Additionally, it includes a detailed cost analysis. Additionally, the report presents views on the COVID-19 market and future trends. The report also provides valuable information to help you decide how to compete in your industry. When you buy a report like this, you are adding credibility to your work.
A quality driveshaft can improve your game by ensuring distance from the tee and improving responsiveness. The new material in the shaft construction is lighter, stronger and more responsive than ever before, so it is becoming a key part of the driver. And there are a variety of options to suit any budget. The main factor to consider when buying a shaft is its quality. However, it's important to note that quality doesn't come cheap and you should always choose an axle based on what your budget can handle.



editor by czh 2023-01-14