Product Description
1
Products 
Name:  Made in China OEM customized die forging steel agricultural machinery parts drive axle yoke shaft 
Material: 40CrMo
Weight: From .2kg-5kg
Packing: wooden case
Min order: 1000pcs
Customized production is available as your drawings or sample. 
 
Process
Die Forging
Material
Stainless Steel, Carbon Steel, Alloy Steel 
Weight
0.1Kg~20Kg
Heat Treatment
Quenching, Annealing,Tempering,Normalizing, Quenching and Tempering
Testing instrument 
composition testing
Spectrometer, Metallographic microscope
Performance testing
Hardness tester, Tensile testing machine
Size Measuring 
CMM,Micrometer, Vernier Caliper, Depth Caliper, feeler gauge
Thread Gauge , Height Gauge
Roughness
Ra1.6~Ra6.3
Machining Equipment
CNC Center , CNC Machines, Turning, Drilling, Milling, boring machine,Grinding Machines,
Wire EDM,Laser Cutting&Welding, Plasma Cutting &Welding, EDM etc.
Quality control
Sampling inspection of raw materials and semi-finished products, 100% Inspection of finished products  
Surface Treatment
Shot Blast ,  Powder Coating, Polishing, Galvanized , Chrome Plated   
Production Capacity
60000T / Years
Lead Time
Normally 30 – 45 Days.
Payment Terms
T/T , L/C 
Material Standard
ASTM , AISI , DIN , BS, JIS, GB,
Certification
ISO9001:2008, IATF16949:2016
2
 Products Quality Control
Quality control involve the inspection and control of incoming materials, production processes, and finished products.
The quality control process includes,
1 First of all, the incoming raw materials with random sampling are analyzed by metallographic microscope to ensure that the chemical composition meets the production requirements
2 Then In the production process, there are QC staffs timely sampling ensure that the products are free of defects in the manufacturing process, and to coordinate and handle any abnormal quality issues may be occurred.
3 The final step of production process is magnetic particle flaw detector of the metal parts to detect it's hidden crack or other defects.
4 All the finished metal parts is sampled in proportion and sent to the laboratory for various mechanical performance tests and size measurement, and the surface quality is manually 100%  inspected.
The relevant testing equipment pictures are as following:
3
Quality Management System Control:
We strictly carry out system management accordance with iso9001 and ts16949 quality standards. And 5S lean production management is implemented on the production site.
The production management site as following:
4
Our Advantages:
 Brand
Our parent company, HiHangZhou Group, is a world-renowned high-end machinery manufacturing enterprise with 40 domestic subsidiaries and branches and 8 foreign manufacturing plants. Has long-term experience and good reputation in cooperation with world-renowned enterprises.
Technology
We have a complete production process and equipment research and development capabilities for ferrous metals forming. More than 25 years of production experience in forging equipment and casting equipment manufacturers, make us more thoroughly get  all the performance of each equipment. One-third of our company's employees are technician and R&D personnel, ensuring that high-quality products are produced with high efficiency.
Service
We can provide custom and standard manufacturing services with multiple manufacturing process integrations. The quality and delivery of products can be fully guaranteed, and the ability to communicate quickly and effectively.
Culture
The unique corporate culture can give full play to the potential of individuals and  provide a strong vitality for the sustainable development of the company.
Social responsibility
Our company strictly implements low-carbon environmental protection, energy-saving and emission-reduction production, and is a benchmark enterprise in local region.
5
Company Culture 
Our Vision
To become 1 of the leading companies
Our Mission
To become a platform for employees to realize their dream
To become 1 of the transforming and upgrading pacemaker of Chinese enterprises
To set the national brands with pride
Our Belief
Strive to build the company into an ideal platform for entrepreneurs to realize their self-worth and contribute to the society
Values
Improvement is innovation, everyone can innovate
innovation inspired and failures tolerated
6
FAQ
1.
Q:  Are you a trading company or a manufacturer?
A:  Obviously we are a manufacturer of forging products, casting products and also have a high level of machining capabilities.
2.
Q:  What series products do your have?
A:  We are mainly engaged in forming processing of ferrous metals, including processing by casting , forging and machining. As you know, such machinery parts can be observed in various industries of equipment manufacturing.
3
Q:  Do you provide samples? is it free?
A:  Yes, we commonly provide samples according to the traditional practice, but we also need customers to provide a freight pay-by-account number to show mutual sincerity of cooperation.
4
Q:  Is OEM available?
A:  Yes, OEM is available.
5
Q:  What's your quality guarantee?
A: We insist that the survival of the company should depend on the products quality continuous improvement, without which we cannot survive for long. We carry out strictly product quality control for every process from incoming materials, production process to finished products via advanced detection instrument and equipment. We also invite independent third parties to certify our quality and management systems. Till now we have passed ISO/TS16949 and SGS certification .
6
Q.  How  about  the  Packing?
A: We usually use the iron box, or wooden case, also it can be customized according to customer's demands.
7
Q:  What is your minimum order quantity?
A:  Yes, we require all international orders to have an minimum order quantity. The quantity is up to the exact products feature or property such as the material, weight, construction etc.
8
Q:  What is the lead time?
A:  Generally our forging products and casting products need to make new dies or molds, the time of making new dies or molds and samples within 30-45 days, and the large batch production time within 30-45 days. it's also according to the parts structural complexity and quantity.
9
Q: What kinds of payment methods do you accept?
A: You can make the payment by T/T or L/C. 30% deposit in advance, 70% balance against the copy of B/L.
Certification

 
| | |
| --- | --- |
| Processing Object: | Metal |
| Molding Style: | Forging |
| Molding Technics: | Pressure Casting |
| Application: | Agricultural Machinery Parts |
| Material: | Steel |
| Heat Treatment: | Tempering |
Samples:

US$ 20/Piece

1 Piece(Min.Order)

|
Request Sample
Customization:

Available

|

Customized Request
How does proper maintenance extend the lifespan of axle shafts and drivetrains?
Proper maintenance plays a crucial role in extending the lifespan of axle shafts and drivetrains in vehicles. By following recommended maintenance practices, owners can prevent premature wear, identify potential issues early, and ensure optimal performance. Here's a detailed explanation of how proper maintenance extends the lifespan of axle shafts and drivetrains:
Lubrication: Regular lubrication is essential for axle shafts and drivetrain components. Adequate lubrication reduces friction between moving parts, minimizing wear and heat generation. It helps prevent metal-to-metal contact, which can lead to damage and premature failure. Proper lubrication ensures smooth operation and protects against corrosion, promoting the longevity of axle shafts and drivetrain components.
Fluid Inspection and Replacement: Regular inspection and replacement of fluids, such as gear oil and transmission fluid, are essential for maintaining the health of axle shafts and drivetrains. Over time, fluids can become contaminated, lose their lubricating properties, or develop excessive wear particles. By regularly inspecting and replacing fluids according to the manufacturer's recommendations, owners can ensure optimal lubrication and cooling, reducing the risk of component damage and extending the lifespan of axle shafts and drivetrains.
Seal and Boot Maintenance: Axle shafts are equipped with seals and boots that protect them from contamination and retain lubricants. Proper maintenance involves inspecting and replacing damaged or worn seals and boots. Cracked or torn boots can allow dirt, moisture, and debris to enter, leading to accelerated wear and potential damage to the axle shafts and other drivetrain components. Regular maintenance of seals and boots helps maintain a protective barrier, preserving the integrity and longevity of the axle shafts and drivetrains.
Alignment and Suspension: Proper alignment and suspension settings are crucial for the health of axle shafts and drivetrains. Misalignment or improper suspension geometry can place excessive stress on the axle shafts, leading to premature wear or failure. Regular wheel alignment and suspension inspections, as well as addressing any issues promptly, help distribute the load evenly across the axle shafts, reducing strain and extending their lifespan.
Regular Inspections: Conducting regular inspections of the axle shafts and drivetrain components allows owners to identify any signs of wear, damage, or abnormalities. This includes checking for excessive play, unusual noises, leaks, or vibrations. By catching potential issues early, owners can take timely action, such as repairing or replacing worn components, preventing further damage and preserving the overall health and longevity of the axle shafts and drivetrains.
Proper Driving Habits: Responsible driving habits can also contribute to the extended lifespan of axle shafts and drivetrains. Avoiding aggressive acceleration, hard braking, and abrupt shifts can reduce stress on these components. Smooth and controlled driving minimizes sudden torque changes and excessive forces, preventing unnecessary wear and extending the life of axle shafts and drivetrains.
By adhering to proper maintenance practices, owners can significantly increase the lifespan of axle shafts and drivetrains in their vehicles. Regular lubrication, fluid inspection and replacement, seal and boot maintenance, alignment and suspension checks, regular inspections, and adopting responsible driving habits all contribute to reducing wear, preventing damage, and maximizing the performance and longevity of axle shafts and drivetrains.
In summary, proper maintenance plays a vital role in extending the lifespan of axle shafts and drivetrains. It ensures adequate lubrication, inspects and replaces fluids, maintains seals and boots, addresses alignment and suspension issues, conducts regular inspections, and promotes responsible driving. By following these practices, owners can enjoy a longer lifespan and optimal performance from their vehicle's axle shafts and drivetrains.
Can axle shafts be customized or upgraded for specific applications?
Axle shafts can indeed be customized or upgraded to meet specific application requirements. Depending on the intended use, performance goals, and vehicle modifications, customization or upgrading of axle shafts can provide several benefits. Here's a detailed explanation of customizing and upgrading axle shafts for specific applications:
Customization:
Customization of axle shafts involves tailoring their design, materials, and specifications to suit specific application needs. Some common examples of axle shaft customization include:
Material Selection: Axle shafts can be customized by choosing different materials based on the desired strength, weight, and durability. For high-performance applications, materials such as chromoly steel or alloy steel may be selected to enhance strength and withstand increased torque loads.
Length and Splines: The length and spline count of axle shafts can be customized to accommodate vehicle modifications or specific drivetrain setups. This ensures proper fitment and engagement with the differential or transaxle and the wheel hubs.
Upgraded CV Joints: In applications that require increased articulation or heavy-duty off-road use, the constant velocity (CV) joints on the axle shafts can be upgraded to more robust and durable versions. Upgraded CV joints can better withstand extreme angles and off-road stresses.
Performance Enhancements: Custom axle shafts can be designed to handle higher torque loads or provide improved performance characteristics. This can involve optimizing the shaft diameter, wall thickness, or other design parameters to enhance strength, reduce weight, or increase torsional rigidity.
Upgrades:
In addition to customization, upgrading axle shafts with aftermarket components or specialized kits is another option for specific applications. Upgrades can provide enhanced performance, durability, or specialized features. Some common axle shaft upgrades include:
Performance Axle Shafts: Aftermarket performance axle shafts are available for vehicles used in high-performance applications, such as racing or off-roading. These shafts are designed to handle increased torque loads, provide better strength, and improve power delivery efficiency.
Locking Differentials: Upgrading to a locking differential system can enhance off-road performance by ensuring power is evenly distributed to both wheels, improving traction in challenging terrain. Upgraded axle shafts may be necessary to accommodate the locking differential mechanism.
Upgraded Bearings and Seals: Upgrading the bearings and seals on axle shafts can improve durability and longevity. This is particularly beneficial in heavy-duty applications or environments with high levels of dust, moisture, or contaminants.
Axle Shaft Reinforcement: For vehicles subjected to extreme loads or heavy modifications, axle shaft reinforcement kits can be installed. These kits typically include additional bracing or gussets to strengthen the axle housing and prevent bending or failure of the axle shafts.
It's important to note that axle shaft customization or upgrading may require careful consideration of other drivetrain components, such as differential, wheel hubs, and suspension geometry. Additionally, such modifications should be performed by qualified professionals with expertise in axle shafts and drivetrain systems to ensure proper installation and compatibility.
By customizing or upgrading axle shafts to specific applications, vehicle owners can optimize performance, durability, and reliability, tailored to their unique needs and requirements.
Are there different axle shaft designs for rear-wheel drive and front-wheel drive vehicles?
Yes, rear-wheel drive (RWD) and front-wheel drive (FWD) vehicles typically employ different axle shaft designs to accommodate their respective drivetrain configurations. The axle shafts in RWD and FWD vehicles differ in their construction, orientation, and connection to the wheels. Here's a detailed explanation of the axle shaft designs used in RWD and FWD vehicles:
Rear-Wheel Drive (RWD) Vehicles:
In RWD vehicles, the engine's power is transmitted to the rear wheels through the drivetrain components. The axle shaft design in RWD vehicles is commonly referred to as a solid axle or full-floating axle. Here are the key characteristics of RWD axle shafts:
Rigid Shaft: RWD axle shafts are typically solid and rigid, connecting the differential directly to each rear wheel. They are designed to handle high torque loads and provide robustness, making them suitable for heavy-duty applications.
Single Connection: Each rear wheel has its own dedicated axle shaft, which connects directly to the wheel hub. The axle shaft transfers power to the wheel, enabling it to rotate.
Support and Power Transfer: RWD axle shafts support the weight of the vehicle and transmit torque from the differential to the wheels. They facilitate smooth power delivery and enable the rear wheels to propel the vehicle forward or backward.
Less Articulation: Since RWD vehicles typically have a solid rear axle, the axle shafts have limited articulation compared to FWD vehicles. This design simplifies the construction but may result in reduced suspension flexibility and a harsher ride quality.
Front-Wheel Drive (FWD) Vehicles:
In FWD vehicles, the engine's power is transmitted to the front wheels through the drivetrain components. FWD axle shafts are commonly known as half shafts or CV axles (constant velocity axles). Here are the main characteristics of FWD axle shafts:
Compact and Lightweight: FWD axle shafts are typically lighter and more compact than RWD axle shafts. They are designed to accommodate the space limitations in the front-wheel-drive layout.
Constant Velocity (CV) Joints: FWD axle shafts incorporate constant velocity (CV) joints, which allow for flexibility and rotation at various angles. CV joints compensate for the changing length and angle of the axle shafts during suspension movement and steering.
Transverse Orientation: FWD axle shafts are positioned transversely across the vehicle, connecting the differential or transaxle to the front wheels. This orientation allows for efficient power transfer and space utilization in FWD vehicles.
Support and Power Transfer: FWD axle shafts support the weight of the vehicle and transmit torque from the differential or transaxle to the front wheels. They enable the front wheels to rotate and provide the driving force for vehicle movement.
Increased Articulation: FWD axle shafts have greater articulation capabilities due to the need to accommodate suspension movement and steering angles. The CV joints allow the axle shafts to flex and rotate, ensuring smooth power delivery even when the wheels are turned or the suspension is compressed.
These axle shaft designs in RWD and FWD vehicles are tailored to the specific requirements and configurations of each drivetrain layout. They optimize power transmission, support the wheels, and ensure efficient operation based on the unique characteristics of rear-wheel drive and front-wheel drive systems.



editor by CX 2023-11-17
Product Description
Company Profile
HangZhou Xihu (West Lake) Dis. East Port Gear Manufacturing factory is located in Zhoujia Industrial Zone, CZPT Town, HangZhou, 3km away from Xihu (West Lake) Dis.qian Lake. It focuses on precision gear research, development, production and sales. The factory has obtained ISO9001: 2015 certificate, IATF16949:2016. The main export markets were North America, South America and Europe. Products can be customized and mainly includes: New Energy Motor Shaft, Oil Pump Gear, Agricultural Machinery Gear, Transmission Gear, Electric Vehicle gear, etc. We are sincerely willing to cooperate with enterprises from all over the world. 
Equipment And Main Products
Certifications
FAQ
Q1:How is the quality of your product?
A:Our product has reliable quality,  high wear life
Q2:Customization process/work flow?
Advisory – Material selection – 2D/3D Drawing – Quotation – Payment – Production – Quality Control – Package – Delivery
Q3: What is your terms of packing?
A:Generally, we pack our goods in wooden cases, If you have special request about packing, pls negotiate with us in advance, we can pack the goods as your request.
Q4:Price?
A:We will offer competitive price after receiving your drawing
Q5:What is your terms of payment?
A:30% T/T advanced, 70% T/T before shipping
Q6:What is your terms of delivery?
A: FOB
Q7:What drawing software does your company use?
A:CAXA
Q8:Do you test all your goods before delivery?
A: Yes, we have 100% test before delivery
Q9:How about your delivery time?
A:Product can often be delivered within 40-90 days
Q10:Sample?
A:We offer paid sample.If you have sample requirements, please feel free to contact us at any time
Q11:What logistics packaging does your company use?
A:Express for urgent orders. UPS, FedEx, DHL, TNT, EMS.
Q12:Application range?
A:Automotive, medical, automation, agricultural, marine, etc.
 
Q13: How do you make our business long-term and good relationship?
A:1. We keep good quality and competitive price to ensure our customers benefit ;
   2. We respect every customer as our friend and we sincerely do business and make friends with them, 
   no matter where they come from.
Shipping Cost:

Estimated freight per unit.





To be negotiated
| | |
| --- | --- |
| Application: | Motor, Electric Cars, Motorcycle, Machinery, Agricultural Machinery, Car |
| Hardness: | Hardened Tooth Surface |
| Gear Position: | Internal Gear |
Samples:

US$ 50/Piece

1 Piece(Min.Order)

|

Order Sample

customized version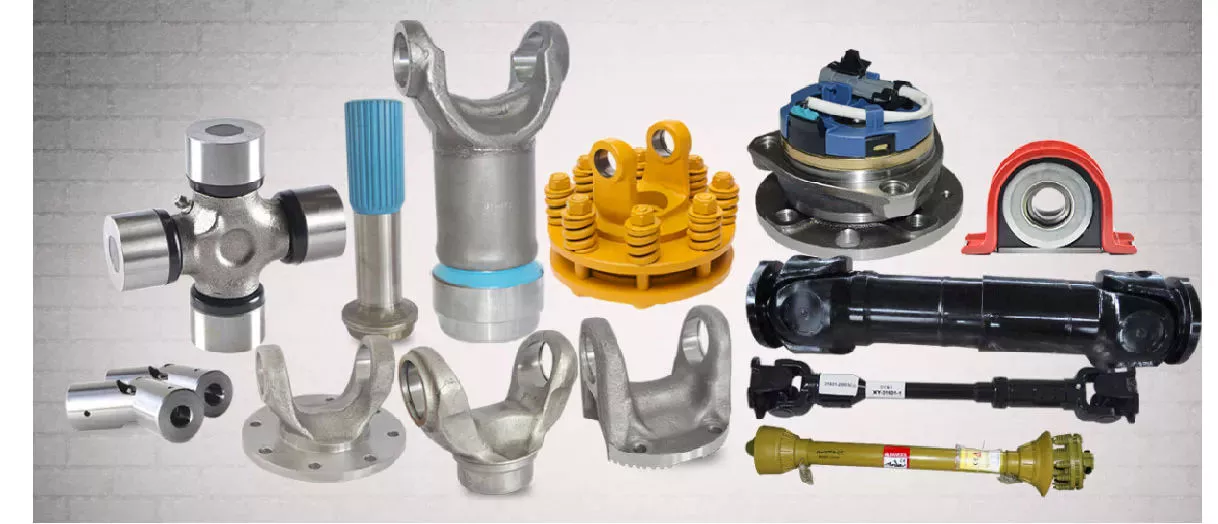 Guide to Drive Shafts and U-Joints
If you're concerned about the performance of your car's driveshaft, you're not alone. Many car owners are unaware of the warning signs of a failed driveshaft, but knowing what to look for can help you avoid costly repairs. Here is a brief guide on drive shafts, U-joints and maintenance intervals. Listed below are key points to consider before replacing a vehicle driveshaft.
Symptoms of Driveshaft Failure
Identifying a faulty driveshaft is easy if you've ever heard a strange noise from under your car. These sounds are caused by worn U-joints and bearings supporting the drive shaft. When they fail, the drive shafts stop rotating properly, creating a clanking or squeaking sound. When this happens, you may hear noise from the side of the steering wheel or floor.
In addition to noise, a faulty driveshaft can cause your car to swerve in tight corners. It can also lead to suspended bindings that limit overall control. Therefore, you should have these symptoms checked by a mechanic as soon as you notice them. If you notice any of the symptoms above, your next step should be to tow your vehicle to a mechanic. To avoid extra trouble, make sure you've taken precautions by checking your car's oil level.
In addition to these symptoms, you should also look for any noise from the drive shaft. The first thing to look for is the squeak. This was caused by severe damage to the U-joint attached to the drive shaft. In addition to noise, you should also look for rust on the bearing cap seals. In extreme cases, your car can even shudder when accelerating.
Vibration while driving can be an early warning sign of a driveshaft failure. Vibration can be due to worn bushings, stuck sliding yokes, or even springs or bent yokes. Excessive torque can be caused by a worn center bearing or a damaged U-joint. The vehicle may make unusual noises in the chassis system.
If you notice these signs, it's time to take your car to a mechanic. You should check regularly, especially heavy vehicles. If you're not sure what's causing the noise, check your car's transmission, engine, and rear differential. If you suspect that a driveshaft needs to be replaced, a certified mechanic can replace the driveshaft in your car.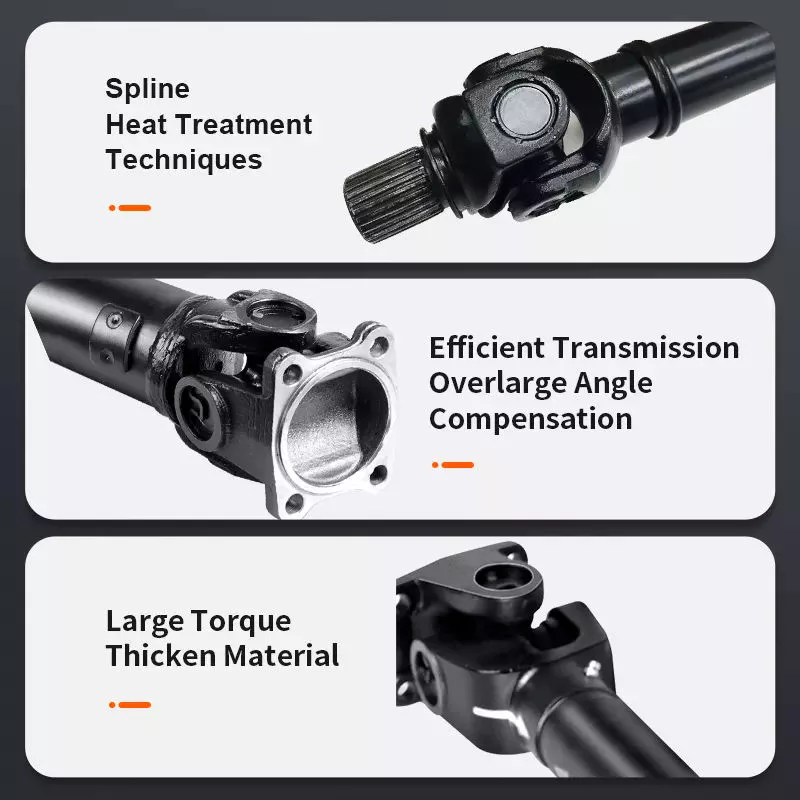 Drive shaft type
Driveshafts are used in many different types of vehicles. These include four-wheel drive, front-engine rear-wheel drive, motorcycles and boats. Each type of drive shaft has its own purpose. Below is an overview of the three most common types of drive shafts:
The driveshaft is a circular, elongated shaft that transmits torque from the engine to the wheels. Drive shafts often contain many joints to compensate for changes in length or angle. Some drive shafts also include connecting shafts and internal constant velocity joints. Some also include torsional dampers, spline joints, and even prismatic joints. The most important thing about the driveshaft is that it plays a vital role in transmitting torque from the engine to the wheels.
The drive shaft needs to be both light and strong to move torque. While steel is the most commonly used material for automotive driveshafts, other materials such as aluminum, composites, and carbon fiber are also commonly used. It all depends on the purpose and size of the vehicle. Precision Manufacturing is a good source for OEM products and OEM driveshafts. So when you're looking for a new driveshaft, keep these factors in mind when buying.
Cardan joints are another common drive shaft. A universal joint, also known as a U-joint, is a flexible coupling that allows one shaft to drive the other at an angle. This type of drive shaft allows power to be transmitted while the angle of the other shaft is constantly changing. While a gimbal is a good option, it's not a perfect solution for all applications.
CZPT, Inc. has state-of-the-art machinery to service all types of drive shafts, from small cars to race cars. They serve a variety of needs, including racing, industry and agriculture. Whether you need a new drive shaft or a simple adjustment, the staff at CZPT can meet all your needs. You'll be back on the road soon!
U-joint
If your car yoke or u-joint shows signs of wear, it's time to replace them. The easiest way to replace them is to follow the steps below. Use a large flathead screwdriver to test. If you feel any movement, the U-joint is faulty. Also, inspect the bearing caps for damage or rust. If you can't find the u-joint wrench, try checking with a flashlight.
When inspecting U-joints, make sure they are properly lubricated and lubricated. If the joint is dry or poorly lubricated, it can quickly fail and cause your car to squeak while driving. Another sign that a joint is about to fail is a sudden, excessive whine. Check your u-joints every year or so to make sure they are in proper working order.
Whether your u-joint is sealed or lubricated will depend on the make and model of your vehicle. When your vehicle is off-road, you need to install lubricable U-joints for durability and longevity. A new driveshaft or derailleur will cost more than a U-joint. Also, if you don't have a good understanding of how to replace them, you may need to do some transmission work on your vehicle.
When replacing the U-joint on the drive shaft, be sure to choose an OEM replacement whenever possible. While you can easily repair or replace the original head, if the u-joint is not lubricated, you may need to replace it. A damaged gimbal joint can cause problems with your car's transmission or other critical components. Replacing your car's U-joint early can ensure its long-term performance.
Another option is to use two CV joints on the drive shaft. Using multiple CV joints on the drive shaft helps you in situations where alignment is difficult or operating angles do not match. This type of driveshaft joint is more expensive and complex than a U-joint. The disadvantages of using multiple CV joints are additional length, weight, and reduced operating angle. There are many reasons to use a U-joint on a drive shaft.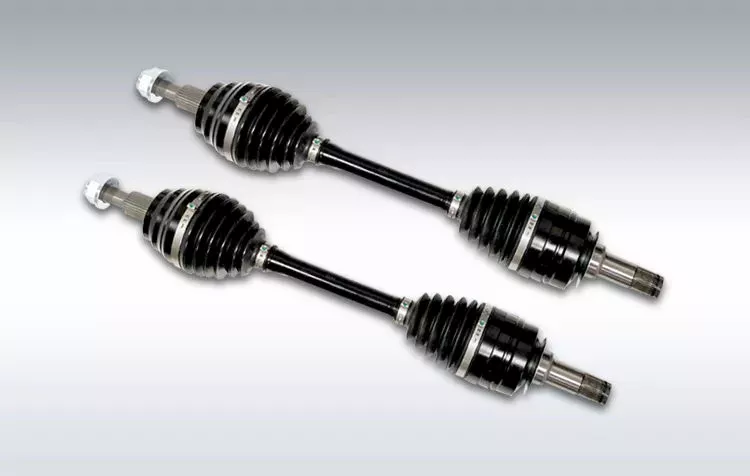 maintenance interval
Checking U-joints and slip joints is a critical part of routine maintenance. Most vehicles are equipped with lube fittings on the driveshaft slip joint, which should be checked and lubricated at every oil change. CZPT technicians are well-versed in axles and can easily identify a bad U-joint based on the sound of acceleration or shifting. If not repaired properly, the drive shaft can fall off, requiring expensive repairs.
Oil filters and oil changes are other parts of a vehicle's mechanical system. To prevent rust, the oil in these parts must be replaced. The same goes for transmission. Your vehicle's driveshaft should be inspected at least every 60,000 miles. The vehicle's transmission and clutch should also be checked for wear. Other components that should be checked include PCV valves, oil lines and connections, spark plugs, tire bearings, steering gearboxes and brakes.
If your vehicle has a manual transmission, it is best to have it serviced by CZPT's East Lexington experts. These services should be performed every two to four years or every 24,000 miles. For best results, refer to the owner's manual for recommended maintenance intervals. CZPT technicians are experienced in axles and differentials. Regular maintenance of your drivetrain will keep it in good working order.



editor by CX 2023-05-26
Error:获取session失败,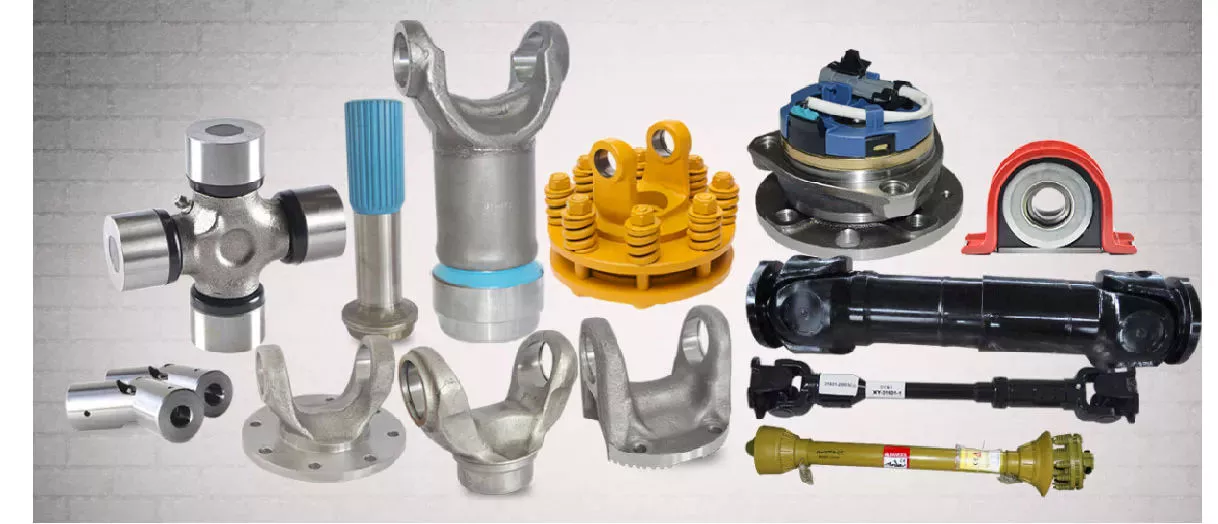 Driveshaft structure and vibrations associated with it
The structure of the drive shaft is critical to its efficiency and reliability. Drive shafts typically contain claw couplings, rag joints and universal joints. Other drive shafts have prismatic or splined joints. Learn about the different types of drive shafts and how they work. If you want to know the vibrations associated with them, read on. But first, let's define what a driveshaft is.
transmission shaft
As the demand on our vehicles continues to increase, so does the demand on our drive systems. Higher CO2 emission standards and stricter emission standards increase the stress on the drive system while improving comfort and shortening the turning radius. These and other negative effects can place significant stress and wear on components, which can lead to driveshaft failure and increase vehicle safety risks. Therefore, the drive shaft must be inspected and replaced regularly.
Depending on your model, you may only need to replace one driveshaft. However, the cost to replace both driveshafts ranges from $650 to $1850. Additionally, you may incur labor costs ranging from $140 to $250. The labor price will depend on your car model and its drivetrain type. In general, however, the cost of replacing a driveshaft ranges from $470 to $1850.
Regionally, the automotive driveshaft market can be divided into four major markets: North America, Europe, Asia Pacific, and Rest of the World. North America is expected to dominate the market, while Europe and Asia Pacific are expected to grow the fastest. Furthermore, the market is expected to grow at the highest rate in the future, driven by economic growth in the Asia Pacific region. Furthermore, most of the vehicles sold globally are produced in these regions.
The most important feature of the driveshaft is to transfer the power of the engine to useful work. Drive shafts are also known as propeller shafts and cardan shafts. In a vehicle, a propshaft transfers torque from the engine, transmission, and differential to the front or rear wheels, or both. Due to the complexity of driveshaft assemblies, they are critical to vehicle safety. In addition to transmitting torque from the engine, they must also compensate for deflection, angular changes and length changes.
type
Different types of drive shafts include helical shafts, gear shafts, worm shafts, planetary shafts and synchronous shafts. Radial protruding pins on the head provide a rotationally secure connection. At least one bearing has a groove extending along its circumferential length that allows the pin to pass through the bearing. There can also be two flanges on each end of the shaft. Depending on the application, the shaft can be installed in the most convenient location to function.
Propeller shafts are usually made of high-quality steel with high specific strength and modulus. However, they can also be made from advanced composite materials such as carbon fiber, Kevlar and fiberglass. Another type of propeller shaft is made of thermoplastic polyamide, which is stiff and has a high strength-to-weight ratio. Both drive shafts and screw shafts are used to drive cars, ships and motorcycles.
Sliding and tubular yokes are common components of drive shafts. By design, their angles must be equal or intersect to provide the correct angle of operation. Unless the working angles are equal, the shaft vibrates twice per revolution, causing torsional vibrations. The best way to avoid this is to make sure the two yokes are properly aligned. Crucially, these components have the same working angle to ensure smooth power flow.
The type of drive shaft varies according to the type of motor. Some are geared, while others are non-geared. In some cases, the drive shaft is fixed and the motor can rotate and steer. Alternatively, a flexible shaft can be used to control the speed and direction of the drive. In some applications where linear power transmission is not possible, flexible shafts are a useful option. For example, flexible shafts can be used in portable devices.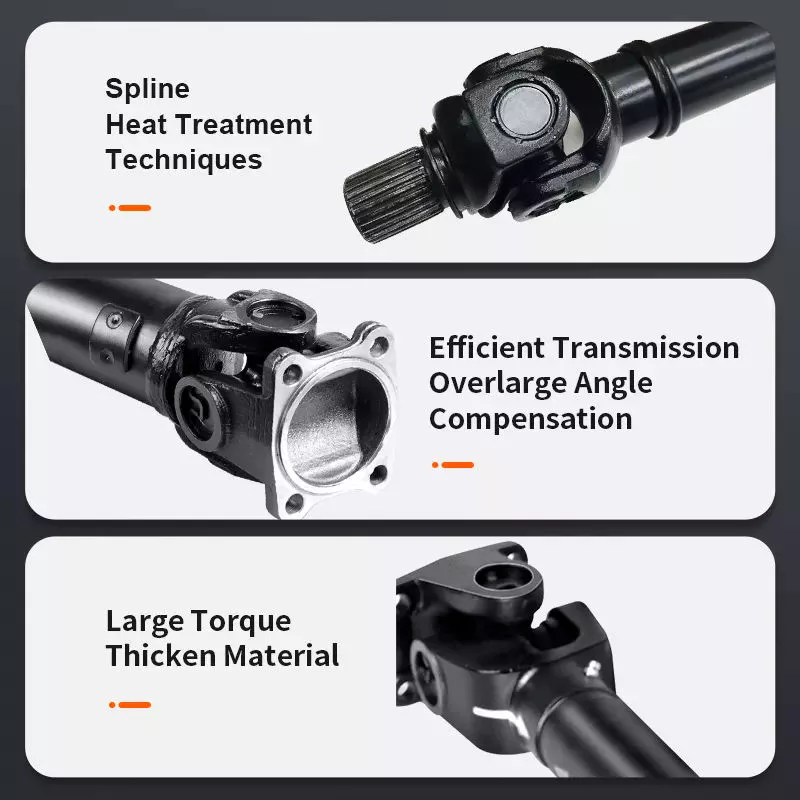 put up
The construction of the drive shaft has many advantages over bare metal. A shaft that is flexible in multiple directions is easier to maintain than a shaft that is rigid in other directions. The shaft body and coupling flange can be made of different materials, and the flange can be made of a different material than the main shaft body. For example, the coupling flange can be made of steel. The main shaft body is preferably flared on at least one end, and the at least one coupling flange includes a first generally frustoconical projection extending into the flared end of the main shaft body.
The normal stiffness of fiber-based shafts is achieved by the orientation of parallel fibers along the length of the shaft. However, the bending stiffness of this shaft is reduced due to the change in fiber orientation. Since the fibers continue to travel in the same direction from the first end to the second end, the reinforcement that increases the torsional stiffness of the shaft is not affected. In contrast, a fiber-based shaft is also flexible because it uses ribs that are approximately 90 degrees from the centerline of the shaft.
In addition to the helical ribs, the drive shaft 100 may also contain reinforcing elements. These reinforcing elements maintain the structural integrity of the shaft. These reinforcing elements are called helical ribs. They have ribs on both the outer and inner surfaces. This is to prevent shaft breakage. These elements can also be shaped to be flexible enough to accommodate some of the forces generated by the drive. Shafts can be designed using these methods and made into worm-like drive shafts.
vibration
The most common cause of drive shaft vibration is improper installation. There are five common types of driveshaft vibration, each related to installation parameters. To prevent this from happening, you should understand what causes these vibrations and how to fix them. The most common types of vibration are listed below. This article describes some common drive shaft vibration solutions. It may also be beneficial to consider the advice of a professional vibration technician for drive shaft vibration control.
If you're not sure if the problem is the driveshaft or the engine, try turning on the stereo. Thicker carpet kits can also mask vibrations. Nonetheless, you should contact an expert as soon as possible. If vibration persists after vibration-related repairs, the driveshaft needs to be replaced. If the driveshaft is still under warranty, you can repair it yourself.
CV joints are the most common cause of third-order driveshaft vibration. If they are binding or fail, they need to be replaced. Alternatively, your CV joints may just be misaligned. If it is loose, you can check the CV connector. Another common cause of drive shaft vibration is improper assembly. Improper alignment of the yokes on both ends of the shaft can cause them to vibrate.
Incorrect trim height can also cause driveshaft vibration. Correct trim height is necessary to prevent drive shaft wobble. Whether your vehicle is new or old, you can perform some basic fixes to minimize problems. One of these solutions involves balancing the drive shaft. First, use the hose clamps to attach the weights to it. Next, attach an ounce of weight to it and spin it. By doing this, you minimize the frequency of vibration.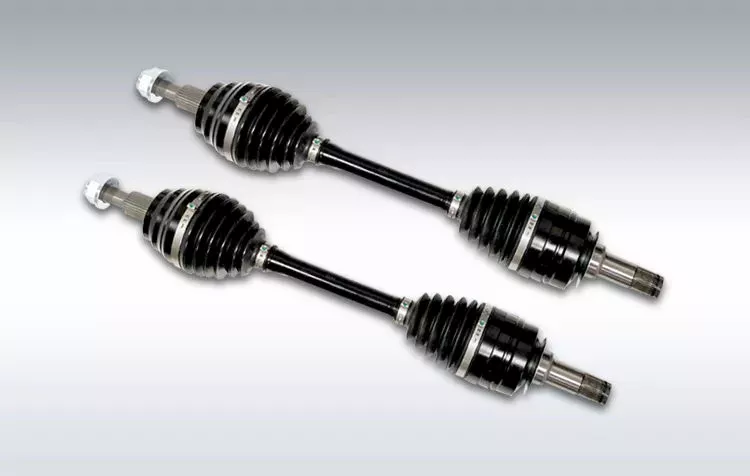 cost
The global driveshaft market is expected to exceed (xxx) million USD by 2028, growing at a compound annual growth rate (CAGR) of XX%. Its soaring growth can be attributed to several factors, including increasing urbanization and R&D investments by leading market players. The report also includes an in-depth analysis of key market trends and their impact on the industry. Additionally, the report provides a comprehensive regional analysis of the Driveshaft Market.
The cost of replacing the drive shaft depends on the type of repair required and the cause of the failure. Typical repair costs range from $300 to $750. Rear-wheel drive cars usually cost more. But front-wheel drive vehicles cost less than four-wheel drive vehicles. You may also choose to try repairing the driveshaft yourself. However, it is important to do your research and make sure you have the necessary tools and equipment to perform the job properly.
The report also covers the competitive landscape of the Drive Shafts market. It includes graphical representations, detailed statistics, management policies, and governance components. Additionally, it includes a detailed cost analysis. Additionally, the report presents views on the COVID-19 market and future trends. The report also provides valuable information to help you decide how to compete in your industry. When you buy a report like this, you are adding credibility to your work.
A quality driveshaft can improve your game by ensuring distance from the tee and improving responsiveness. The new material in the shaft construction is lighter, stronger and more responsive than ever before, so it is becoming a key part of the driver. And there are a variety of options to suit any budget. The main factor to consider when buying a shaft is its quality. However, it's important to note that quality doesn't come cheap and you should always choose an axle based on what your budget can handle.



editor by CX 2023-04-26